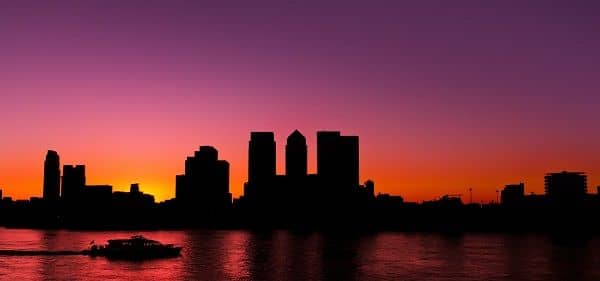 Canary Wharf offers a short commute to anyone working in the financial district, as well as fantastic shopping, great restaurants, and more green spaces than you might expect.
Are you thinking of living in Canary Wharf? We've got the details of everything you need to know, including local attractions, safety, and the property market.
Is Canary Wharf safe?
Canary Wharf is a very safe area. There is very little crime compared to other areas in London. Residents report that they feel perfectly comfortable walking through the area alone at night. Canary Wharf's crime rate is just 16.58 per 1,000 people. This is less than 10% of London's average crime rate of 190.32. In fact, Canary Wharf is regularly rated as one of the safer areas in London, by both police and independent evaluators.
Canary Wharf property
The stereotypical image of modern glass and metal skyscrapers defines Canary Wharf, but the local property market actually offers a variety of styles. There are several period homes on the Isle of Dogs, to the south of Canary Wharf, and, sadly, just a few warehouse conversions which bear up the area's past..
There are several high-rise apartment buildings offering everything from studios to three-bedroom apartments. Canary Wharf's property market is growing fast, with apartments being snapped up before construction is even complete. From the 2019 through to 2025 the volume of apartments in Canary Wharf will increase dramatically due to completion of numerous new developments, including Harbour Central, The Wardian, Landmark Pinnacle, The Madison, and Canary Wharf Group's own redevelopment of Wood Wharf.           
Many people who work in Canary Wharf are there on short or medium-term contracts, so the rental market is thriving. People who want to live in Canary Wharf are often young professionals looking for comfortable surroundings, and the local property market aims to meet that demand. As a result, Canary Wharf properties tend to be appointed extremely well with state-of-the-art features and plenty of thought put into design. Whether you're looking at a period home or a sky-high modern apartment, you're likely to find that everything is fitted to a very high standard.
Working in Canary Wharf
Canary Wharf is one of the world's leading financial centres, home to the European headquarters of companies like Barclays, Citibank, and HSBC. Every day, the businesses of Canary Wharf deal with millions of pounds and make decisions that affect global finances. Naturally, this attracts thousands of ambitious businesspeople who want to climb the corporate ladder.
One of the main attractions for many of Canary Wharf's residents is its proximity to some of the city's biggest businesses, not only in the finance sector but also large and complex organisations requiring an extensive and varied staff to keep their operations running, from executives and managers to software engineers and administrative staff.
Travelling through Central London during rush hour can add time and hassle to a person's daily routine, so many professionals find that the best way to beat the traffic and make the most of their downtime is to live in Canary Wharf. Because of this, many of Canary Wharf's residents are young professionals without children. It's a fantastic community to keep yourself motivated and it shows what can be achieved in the business world. In fact, for many ambitious young professionals, living in Canary Wharf is non-negotiable.
Canary Wharf at night
Canary Wharf's nightlife has a sophisticated atmosphere, favouring high-end restaurants and exclusive bars over nightclubs and stag parties. Whether you want to have a few casual after-work drinks or celebrate something special, there are places in Canary Wharf for every occasion.
The most popular restaurants include Iberica, Roka, The Ivy, and Havez. If you're looking for cocktails with a view or a selection of great whiskeys, places like Boisdale, The Pagination, 640East, and The Person Room are definitely worth visiting. There are dozens of options to try, and they're all so close together that you can easily walk from place to place as you find your new favourite spot.
Of course, one of the best things about Canary Wharf is its central location. Canary Wharf is surrounded by areas with great places to visit, including the Isle of Dogs and Narrow Street. Visit these areas for a more traditionally 'London' experience, rather than the 'global' appeal of Canary Wharf's offerings.
In the early 2000s, Canary Wharf didn't have much to offer in terms of nightlife. For that reason, you might still hear people say that the area is quiet on the weekends. While this might have been the case then, nothing could be further from the truth now. Canary Wharf's restaurant and bar scenes have exploded, and the area now has dozens of fantastic options if you're looking for a fun night out.
Summing up
Living in Canary Wharf is a dream come true for so many residents. Canary Wharf offers a central London location, short commute to work, and the opportunity to climb the corporate ladder in some of the world's biggest finance companies. The area is filled with great bars and restaurants, as well as lots of designer shopping opportunities.
Canary Wharf is also a very safe area. Living there means you can walk home from work or go for a late-night run without fear. The local property market caters to high-level professionals who want to be close to work, with amazing features and fantastic views of the city. Living in Canary Wharf offers professionals everything they could want from a home, right in the middle of London.
Are you considering renting property in Canary Wharf? We're one of the area's best-reviewed letting agents – we do things differently. Get in touch to have a chat about your requirements, or you can browse our Canary Wharf properties for rent. If you're a landlord in the area, we also provide free Canary Wharf property valuations and rental valuations.