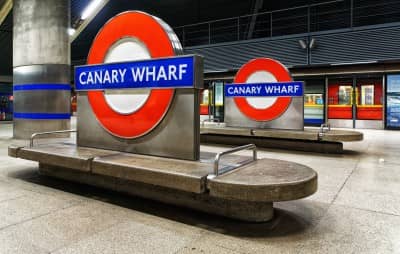 Does this famous business hub live up to its reputation, or is it just another commercial district? Here's how the influence of Canary Wharf extends across London and beyond, directly and indirectly affecting millions of people.
Thirty years of development
Canary Wharf has always been a centre for trade, employment, and profit within London. After more than 150 years as one of London's busiest docks, the Isle of Dogs suffered a huge drop in trade beginning in the 1960s. To revitalise the area, the Docklands were granted Urban Enterprise Zone status in 1982. By 1988, construction for business developments had begun on the part of the island that would come to be known as Canary Wharf.
The first tenants of Canary Wharf's offices took up residence in 1991. Respected newspapers such as The Guardian and The Daily Telegraph moved in, and the creation of luxury housing developed a more well-rounded area with business and residential opportunities. Despite a changing of hands in 1993 as the original owners went into administration, Canary Wharf continued to grow and flourish over the following decade. The area soon became the preferred location of banks and financial companies such as Morgan Stanley, HSBC, Citigroup, and the Financial Services Authority. Now, Canary Wharf is one of London's most important financial centres and is rapidly growing to keep up with demand for office and residential space. Just over 30 years after development began, this thriving economic centre could not be further from the derelict docklands it once was.
The businesses of Canary Wharf
There are over 150 major office tenants in Canary Wharf, many of which are national, European, or global headquarters of international companies. In addition, there are hundreds of smaller businesses that benefit greatly from the business community they share with global giants. The diversity of Canary Wharf's businesses fosters growth and collaboration through projects like Level39, which is based on levels 24, 39, and 42 of One Canada Square. Level39 is the world's most connected technology community, giving over 200 member companies access to world-class customers, talent, and infrastructure. In 2017, Level39 members raised over $100 million in funding. Canary Wharf's central location benefits major companies, and its world-famous business community and reputation gives smaller companies the chance to learn more and grow faster than they could anywhere else.
The economic impact these companies have is unlike anything else in London. of Gross Value Added (GVA) for tenants at Canary Wharf is £40.4 billion, £19.7 billion of which is directly attributed to Canary Wharf Ltd. The area has also generated over £1.6 billion in contracts with east London SMEs since 1997, which is 16 times the rate of other economic centres like London Heathrow and King's Cross.
Canary Wharf's workforce
Two of the largest industries in Canary Wharf are finance and technology. Ten years ago, financial companies accounted for 70% of Canary Wharf's tenants. That number has now gone down to 55% as tech companies such as IBM, Intel, and Oracle move their headquarters to the area. There are 120,000 daily workers in Canary Wharf, and the area supports more than 398,000 jobs in total across the UK. Many of the companies that were founded and housed in Canary Wharf have since expanded to a national level, creating jobs in satellite offices across the country.
Despite its public image, Canary Wharf generates thousands of jobs outside the finance and technology sectors. There are thousands of workers in Canary Wharf that support the area's thriving retail, leisure, and tourism industries. Canary Wharf has over 940,000 sq ft of retail space, including five shopping centres and over 300 shops, cafés, bars, and restaurants. In 2017, these businesses received over 49 million visitors. In addition to this, there are more than 200 arts events held locally every year, many of which are free to attend. Not only do these endeavours create thousands of jobs, they also diversify Canary Wharf and allow it to have an even larger influence within London.
What's next for Canary Wharf?
Every year, Canary Wharf receives more interest from prospective tenants who want to place their businesses in the centre of this powerful and influential location. There is also a year-on-year increase in demand for residential spaces, as Canary Wharf workers look for an alternative to their central London commute. To address these issues and increase Canary Wharf's presence in London, Wood Wharf was announced in 2018. This 5 million sq. ft. mixed-use project will include the following:
2.8 million sq. ft of office space specifically aimed at tech and creative companies.
490,000 sq. ft of retail space, with an emphasis on independent businesses.
3,600 homes, a quarter of which will be social housing.
More than eight acres of public spaces, squares, and parks.
A doctor's surgery and 420-capacity primary school.
This combination of industry, commercial, and residential space has been designed to create a neighbourhood that will appeal to companies and their workers. Wood Wharf will be one of the first areas to have access to 5G when it's rolled out, making it an excellent location for up-and-coming businesses in the tech industry. It's estimated that Wood Wharf will allow for an additional 20,000 jobs to be created, keeping Canary Wharf at the forefront of business innovation in Britain.
It's been little more than 30 years since Canary Wharf was approved, but in that time there has been an explosion of economic and business success in the area. World-famous financial institutions have made their home in Canary Wharf, and now some of the biggest names in the technology sector are following suit. As Canary Wharf expands, its staggering revenue will also grow. In terms of both economics and innovation, Canary Wharf is one of the most influential locations in London.