Whether it's the hipster area of Brick Lane and Whitechapel, the leafy area of Bow, or the forward-thinking financial district of Canary Wharf, there is something for every type of resident to appreciate. It's a hugely diverse and vibrant part of the capital that welcomes a wide variety of people from around the world, creating a unique atmosphere all of its own.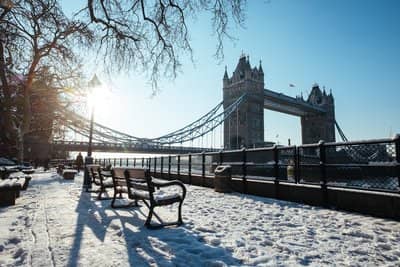 Renting in Tower Hamlets
Between 1983 and 2014, more houses were built in Tower Hamlets than anywhere else in the capital, with the largest percentage of stock (21.43%) constructed between 2000 and 2009. Once London's docklands were finally closed in the 1960s, much of the surrounding land was left dormant, until the London Docklands Development Corporation (LDDC) began their plans to redevelop the area in the 80s.
The average cost of renting in Tower Hamlets today is set at £2,110pcm, although this is skewed by the properties available at the higher end of the market. The rental price range varies from anywhere between £290 to £3,500 per week, which gives a clear indication of the wide variety of properties ready to rent.
Canary Wharf
Over on the Canary Wharf side of the borough you'll find stunning penthouses and new-build apartment blocks offering generous views of the nearby Thames. Those looking for a blend of old and new will be spoilt for choice with the many converted warehouse properties that play a large part in the riverside aesthetic.
Bethnal Green and Whitechapel
In places like Bethnal Green and Whitechapel there are a host of historic Victorian and Edwardian properties to rent, along with converted council properties built in the post-war period. Flats and apartments make up the majority of the property landscape, making it a suitable location for young professionals, newly wed couples and retirees looking to downsize.
Bow
Bow is another district in Tower Hamlets on the rise with new-build developments cropping up. There is plenty of traditional stock still available to rent too. Period property is where Bow excels most. From Georgian terraced houses, to Victorian and Edwardian properties, the options are plentiful for anyone considering Bow as their new home.
Poplar and Limehouse
In Poplar you'll find clusters of Victorian terraced houses, with luxury schemes like New Providence Wharf and Balfron Tower showing a different side to the area. The same can be said about the nearby Isle of Dogs, which features  converted 1920s dockers' cottages, low-rise riverside schemes and thousands of new flats contained in the many newly-built towers.
Elsewhere, Limehouse is home to a small selection of beautiful Georgian properties on one side, while on the other Victorian cottages are still available to be snapped up. As with other parts of the borough you'll also notice the many warehouse conversions sitting close by to new-build flats, which in this case are situated overlooking London's oldest canal, Limehouse Cut.
Things to do in Tower Hamlets
The modernisation of Tower Hamlets has seen the borough come alive in recent years with an abundance of things to do in the evenings and on weekends. The choice of cuisines available is hard to beat anywhere else in the capital, with fine dining experiences only a stone's throw away from more traditional fare. Enjoy the many bars and boutique eateries that continue to pop up and the nightclub scene in neighbouring Shoreditch that is still very much alive and kicking.
There are a variety of museums in the borough, focusing on an array of cultural specialities. Some of the most popular include the V&A Museum of Childhood, the Museum of London Docklands and the Geffrye Museum. It is also a little-known fact that within Tower Hamlets sits the Tower of London, one of the world's most famous landmarks attracting almost 3 million visitors each year.
Film fans can pop along to Cineworld West India Quay to revel in the latest blockbusters, or take in the latest art-house releases at the independent Genesis Cinema. Theatre and music lovers will no doubt regularly find themselves at venues like Wilton's Music Hall, Bethan Green Working Men's Club and the nearby Hackney Empire.
The East End has a long history of welcoming and developing artistic talent and there is no shortage of galleries available to visit in Tower Hamlets. Some of the most renowned are the Whitechapel Gallery, Guildhall Art Gallery and Gitoon Gallery, all displaying a wide range of styles from established and upcoming artists.
Transport in Tower Hamlets
Travelling to and from Tower Hamlets is never an issue given how well connected the borough is to the rest of the capital. On the tube, commuters can travel on the District, Circle, Central and Hammersmith & City lines, with the option to hop onto the nearby DLR and Overground stations if needed. You can also use the riverboat services for a more scenic route through London, which can get you from St Katherine's Docks up to Canary Wharf in no time at all.
Schools in Tower Hamlets
Families thinking of moving to Tower Hamlets to rent will be pleased to learn that the borough has excellent educational establishments. Over a quarter of the schools in Tower Hamlets have been given an 'Outstanding' rating by Ofsted during their last inspection. At Primary level, notable schools include Bigland Green Primary, Bonner Primary and Bygrove. Older children ready for secondary school will be keen to get into the likes of Beatrice Tate, Bishop Challoner Girls and Morpeth. Nearby colleges of note include Canary Wharf College (East Ferry), East London Arts & Music and Canary Wharf College (Glenworth).
Parks and greenery in Tower Hamlets
There are plenty of green spaces in Tower Hamlets to enjoy, with the likes of Bethnal Green Garden, Weavers Field and Mile End Park all open to the public. The huge 86 hectare expanse of Victoria Park also ventures across from neighbouring Hackney into Tower Hamlets, providing ample room for people of all ages to come and enjoy the nearby greenery. There are sporting facilities and play areas for children, as well as woodlands, and a large lake, while Regents Canal also runs along the western edge of the park.
Next Steps
If you're thinking of moving to Tower Hamlets or have a property in the area to either let of sell, contact Proper Local. We are local property experts and can help you in your property journey. Browse our popular pages below or call or email us.