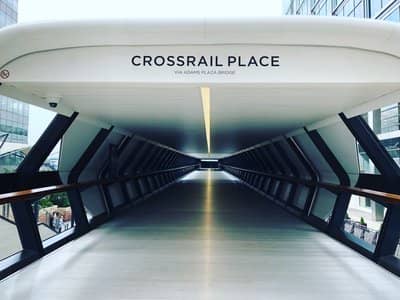 Property types and prices
Developers have been busy in Canary Wharf over the last few years to put it midly, so the market is mostly dominated by modern apartments. However, there are a few converted period buildings in the E14 postcode, and some terraced family homes. The sales prices are variable, depending on the style and location of the property, plus its rental potential.
At one end of the scale, there's an abundance of high-end penthouse-style apartments, in developments like Pan Peninsula, or the Canary Wharf Group's Wood Wharf redevelopment. These are largely open-plan, with unrivalled views of the city, and they're ideal for attracting high-paying professional renters. Expect to pay several million for properties of this calibre.
There are some excellent mid-priced options too, such as the one- and two-bedroomed apartments in The Landmark, South Quay Plaza or Maine Tower, which are around the £700,000 mark. Family homes are less common, but do sometimes come to the market. These tend to be terraced houses or old Dockers' cottages, and are likely to be priced at anything from £600,000 upwards.
Investors on a tighter budget should consider the one-bedroomed apartments in locations like New Providence Wharf, Canary Central or on the Isle of Dogs itself. While they may not be as luxurious as some of the other developments, they still offer the locations which renters will be looking for, but starting at £350,000,
How do they compare to Central London?
At present, the E14 postcode is more reasonably priced than Central London. Indeed, it's cheaper than many other parts of the capital. However, given how popular Canary Wharf property investment is becoming, this is likely to change in the future.
For example, the current average price per square foot for a property in the E14 postcode is £631. By contrast, it's £930 for Greater London, which is a significant difference.(1)
Average property prices are also cheaper, and the average rental yield is about the same as it is for the rest of the city (about 3.8% per year).
House prices in Canary Wharf
Unlike some other parts of London, Canary Wharf house prices have risen almost continuously in value in recent years. This is in spite of the uncertainty caused by Brexit. The current average property price is £567,809. This is an increase of 5.16% in the space of a year – impressive growth for a London location.
Given the price trends over the last few years, it seems likely that property prices will continue to grow, making this area especially appealing to invest in.
Average rental yields and monthly rates
The E14 postcode offers good rental potential for buy-to-let investors. The rental price range is unusually broad, but this is unsurprising, given the nature of the properties on offer. The luxury penthouses tend to command the highest monthly rent (somewhere in the region of £3,500 per week), while the cosy one-bedroomed flats may generate something like £315 per week, as a minimum. (2)
Why Canary Wharf?
In order for an area to appeal to tenants, it must have plenty of amenities and facilities on offer. Canary Wharf has been developed specifically for professionals, with a wealth of restaurants, shops and bars for residents to enjoy.
The impressive transport links are another reason why tenants want to move here. The Jubilee line and DLR network are well-established and used, the upcoming Crossrail station will take passengers across Central London even more swiftly, and there's also the Thames Clipper, which is handy for crossing the river with ease. Don't underestimate the bus routes either. The roads are much quieter here than in some other parts of London.
Perhaps even more advantageously, London City Airport is practically on Canary Wharf's doorstep, which means that airline workers (air-crew and pilots, for example) are always on the lookout for rented accommodation close by. 
Also, it's vital to remember that Canary Wharf is one of the capital's most important business districts. This not only ensures that plenty of workers want to move into the area; it also means that many are looking for rented accommodation from Monday to Friday, while they're at work. There are over 120,000 people working in Canary Wharf; a multitude of workers who require somewhere to live. Also, this figure is predicted to rise swiftly over the coming years. 
Regeneration in the area
The E14 postcode has been regenerated beyond recognition in the last few decades. Towering developments like One Canada Square have set the tone for the area; slick, stylish and designed to impress.
However, the regeneration didn't end there. Indeed, developers continue to work in the area, creating appealing new complexes like Crossrail Place, which boasts plenty of retail space. Other recent notable developments include Arena Tower, The Wardian, Dollar Bay and Harbour Central.
These intensive regeneration efforts mean that property prices are likely to continue rising. Increased commercial and office space means tenant demand will likely increase too.
Canary Wharf property investment – what to look for?
When searching for buy-to-let property in Canary Wharf, consider the following:
Target audience. What sort of tenant are you looking for? High-earning professionals are happy to pay a premium, but will expect luxury accommodation in return. Families may prefer houses to apartments, especially if they come with outside space. Alternatively, younger executives may be working to a budget, and might prefer a cheaper one-bedroomed flat.


Commuters will probably be looking for rented properties that are close to the train station, or the Thames Clipper service. However, if you're targeting the luxury market, then a riverside penthouse with views of the city is a wise option. Younger professionals may want to be close to the restaurants and bars.


Future potential. In addition to rental yield, you'll want to consider what sort of capital gains you can generate from the purchase. A good estate agent will be able to offer expert guidance in this area.
Next Steps
If you're thinking of investing in property in the Canary Wharf area, contact Proper Local. We are local property experts and can advise you on the highest yielding properties that return a profit. If you're already a landlord in the area and want to know what income your home could generate, book a free, no obligation Canary Wharf Rental Valuation.