Poplar Regeneration | How will Regeneration impact Poplar Property Prices?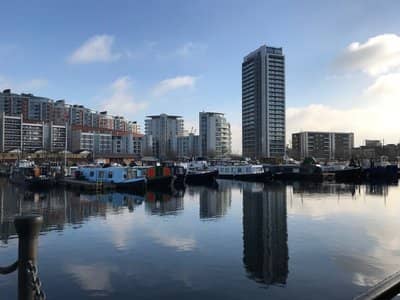 About Poplar
Poplar sits in the borough of Tower Hamlets in east London, close by to Canary Wharf and Stratford. For many years it was overlooked by developers and investors. However, this has changed dramatically in recent times to transform the district into one of London's most exciting places to live. The area has a long history stretching back to the 14th century and played a central role in the success of the docklands area during its heyday. The variety of period properties from this period are now complemented by an exciting range of new build developments, driven by regeneration schemes right across Poplar.
How do property prices in Poplar compare to neighbouring districts?
In 2019, property prices in Poplar increased by 5.53%, beating the London average of just 0.3%. The average property price in Popular is just over £483,000 - 19% lower than the London average of £598,000. This offers good value for house hunters looking for a London property on a budget. Prices in 2010 averaged at around £361,000, showing a healthy rise of 34% over the past decade.
Prices in neighbouring districts to Poplar last year included:  
Stratford: £472,181
Isle of Dogs: £528,923
Whitechapel: £703,612
When prices in Poplar are compared to nearby Canary Wharf you will notice quite a difference. With an average property price of just over £709,000, Canary Wharf is firmly established as one of London's most exclusive districts. Regeneration began in the area back in the 1980s, which transformed its image years before money began to be invested in surrounding areas such as Poplar. But thanks to the vast amount of regeneration being undertaken in Poplar, that is all set to change over the next decade or so.
What are the Poplar regeneration projects?
Poplar has long been in the shadow of Canary Wharf but the gap between the two districts will soon be closed due to billions of pounds of planned investment into the area.
Part of the plan involves the building of 3,000 new flats, some of which will be constructed from the ground up, while others will arrive through the refitting of existing structures. There will also be a number of new commercial spaces and parks all constructed at various phases of the project.
It is estimated that around one in five of these homes will be affordable and for local priced-out renters and first-time buyers.
Other projects featured in the regeneration plan include the redevelopment of Chrisp Street Market, which will see the arrival of a further 650 homes, along with new retail outlets and a local cinema. A new market square with space for stalls and live music is also part of the plan, while allowing for the introduction of a vintage fair, open air cinema and ice rink at various points during the year.
A £300 million development in Robin Hood Gardens will be the home for 1,500 new homes, complemented by a new park, community centre and local shops. It is expected to be finished by the end of the decade, adding yet another attractive dimension to the borough.
The Aberfeldy Village project will provide over 1,000 new homes by 2025. 557 of these are being built close by to East India DLR station, with the properties split between rent, sale and shared ownership. In addition, a gym, health centre, retail shops and a linear park running through the development, will serve to complete the planned scheme.
How does regeneration affect property prices?
Homeowners in Poplar will see the value of their properties rise as a result of the district's ongoing regeneration. A recent study conducted by CBRE revealed that the average price increase of a property located within a regeneration zone could be as much as 3.6%. The closer the property is situated to the heart of the regeneration, the more valuable it will become. The completion of each new development projects a better image for those living outside of Poplar, making it a more desirable place to live. In turn this will drive up demand for local housing, making property stock more sought after as a result.
Poplar property prices in 2020
Property prices in Poplar demonstrated a strong increase of 5.53% in 2019, and with the regeneration scheme continuing through 2020 and beyond, prospects for the local property market look strong at this stage. The average price rise last year also reflects well on years past, increasing a further 6.27% on 2017 figures (£454,606) and an impressive 16.15% on average prices in 2015 (£416,242). Anyone looking to sell their home over the next 12 months should find themselves in a good position to maximise the value of their property, as more people become attracted to the changing face of Poplar and all it has to offer.
If you're thinking about investing in the Poplar property market, take a look at look at our properties for sale. We also have a selection of properties for rent in Poplar and E14.