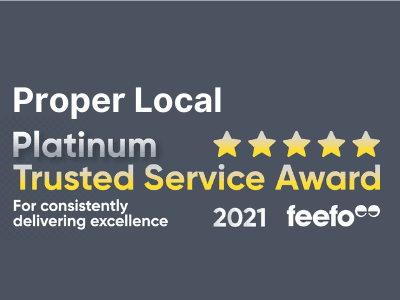 Feefo Platinum Service Award 2021: Proper Local, Canary Wharf

Proper Local is proud to announce that we have just been awarded a Platinum Service Award by Customer Review Site Feefo. This is the highest level of award given out by the platform and demonstrates our commitment to delivering consistent, high levels of service to all our clients in E14. We are one of the only estate agents in Canary Wharf to have received the award and it places us among the top businesses in the country in terms of customer service.
To find out more about the Feefo Service Awards and why we achieved our Platinum Service Award, have a read below.
What are the Feefo Trusted Service Awards?
The Feefo Trusted Service Awards are designed to help customer buy and select services with confidence. The award is a recognised symbol of trust. The Awards identifies those businesses who demonstrate an outstanding service to their customers. Winners are decided based on the ratings they receive from their customers.
To achieve a Trusted Service 2021 Award, a business must have collected at least 50 reviews in the last year with a minimum Feefo service rating of 4.0. Well, Proper Local have gone above and beyond that, which is why we have received a Platinum Service Award in 2021.
Platinum Service Awards
Customer Review Centre Feefo launched the Platinum Service Award in 2020 to distinguish those businesses that offer exceptional levels of customer service. The Platinum Trusted Service Award recognises organisations that go above and beyond to provide an excellent service consistently, year after year.
As Steph Heasman - Director of Customer Success at Feefo – puts it "Our new Platinum award is about consistent achievement, sustained over three years by a business of any size that uses Feefo to provide outstandingly high levels of customer experience."
Why has Proper Local won a Platinum Service Award?
Proper Local has achieved a Platinum Service Award because for three consecutive years now we have received a Gold Trusted Service Award. We have received our Gold Trusted Service Awards thanks to the excellent reviews left by our existing landlords, tenants, sellers, and buyers in Canary Wharf. This demonstrates our commitment to delivering exceptional levels of customer experience, time and time again across the E14 district. At Proper Local, we like to keep things consistent!
To qualify for a Gold Trusted Service Award each year, you must have collected at least 50 reviews in the past year with a Feefo service rating of at least 4.5 out of 5. Well, Proper Local has beaten that. In fact, in the past 12 months, we have only received reviews of 5 stars. We are proud of the fact we deliver a consistent, high standard of customer service to all our clients. Being an independent Estate Agent in Canary Wharf means we can give each of our customers the time and attention they deserve.
We feel the below review, left by Flora sums up the customer experience at Proper Local.
Proper Local Customer Service
Of course, there is no better way to get a sense of our levels of customer service than by reading our Feefo Reviews. However, below we list some of the reasons why we think we received the Platinum Service Award 2021 and why our customers regard us so highly.
Local Presence
Unlike large corporate estate agencies with multiple branches throughout the country, we are an independent business specialising exclusively in the E14 district – Canary wharf, Limehouse, Blackwall and Poplar. Specialising in a select area means we have an exceptional market and area knowledge that sets us apart. We understand the quirks and charms of each area, including what makes an area 'sell' and what sort of people it attracts. This helps all our clients, whether they are a buyer, seller, renter, or landlord.
One Point of Contact
When you choose Proper Local as your estate agent, you're promised one point of contact throughout the process, from initial valuation or viewing, through to exchange of contracts, and everything in between. This sets us apart from large corporate estate agencies who often shift clients around based on levels of demand. As an independent single-branch agency, we can give you the time and attention you deserve. Whether you have a maintenance issue, trouble renting your property or simply need to talk things over – we're here.
Fixed Fees
At Proper Local, we believe that the percentage-based model for fees employed by our competitors is a bit outdated. It also often includes hidden extras like 'tenancy agreement' fees that end up costing you more than you had bargained for.  That's why we work on a fixed fee basis at Proper Local, with no hidden extras like 'tenancy agreement' fees for landlords. More often than not, you'll save money with us, while retaining the same marketing exposure and higher levels of service.
Other Awards
In addition to our recent Feefo Platinum Service Awards 2021, we have also been recognised in the Best Estate Agent Guide Awards 2021.  Not only were we awarded an 'Excellent' for our lettings service, but we were also crowned a Winner as a Letting Agent brand – placing us in the top 500 letting agencies in the UK.
The Best Estate Agent Guide Awards work a bit differently from our Feefo Awards, being based on a range of data. This includes how well properties are marketed on Rightmove, as well as the actual delivery of the sale or let and customer reviews.
Therefore, whether you want to base your opinion on Feefo Reviews or our Best Estate Agent Guide Awards, you can be assured that Proper Local delivers excellent levels of customer service.
Proper Local Estate Agent Services