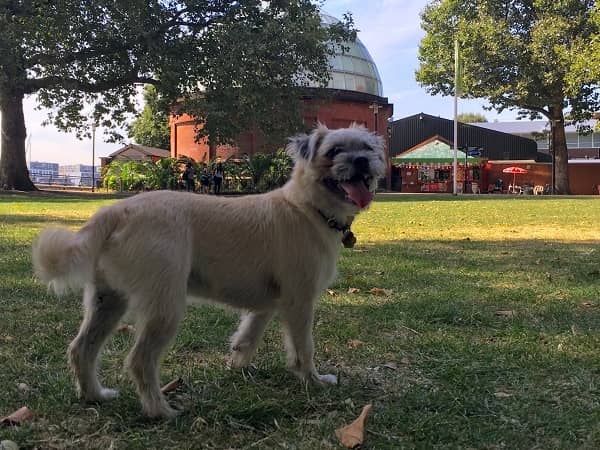 Hi, it's Frank again.
Today, I am in Island Gardens on the Isle of Dogs.
I like parks, especially this one.
It was first opened on 3 August 1895.
Some of you might remember that Island Gardens DLR station used to be here in the park, but when they extended the line under the Thames to go to Lewisham in 1999 they built a new station across the road in Millwall Park. Now that the station isn't here there's more room for dogs like me, and people like you.
Island Gardens is also home to the northern entrance of the Greenwich Foot Tunnel. That was opened in 1902, and it was built to make it easier for the people who lived in south London to get to work in the docks.
Next door to the foot tunnel there's a little shop that sells sweets and cakes and ice creams, but the best thing about it is that there's always a water bowl for dogs. No, really.
Island Gardens Cafe is also here and they serve tea and coffee and sandwiches like lots of cafes, but they also serve Caribbean food like jerk chicken, curry goat and roti.
So, you can get here easily, there's stuff to eat and drink in Island Gardens, you can sit down and relax and watch the boats on the Thames, you can play ball, and you can walk to Greenwich under the Thames, where there's an even bigger park.
See you next week