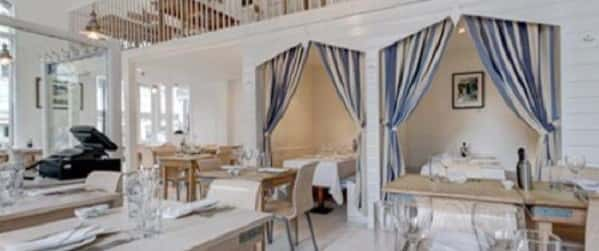 First Edition
The quiet alcoves afford an air of cosiness in this spacious open-plan restaurant, and allow for discreet and intimate dining.

Unsurprisingly, with Billingsgate Market located nearby, the food offering is rich in fresh seafood such as crab, scallops and langoustine. For us, the crunchy coconut king prawns with sweet mango sauce was a stand-out option. Meat certainly doesn't take a back seat though; our second starter of a warm and crispy duck roll was succulent and packed with flavour. As the menu is seasonal, there were some enticing game dishes on offer during our autumnal visit. My partridge, stuffed with pork and sage, steeped in a rich port jus and served with green beans and dauphinoise potatoes, was incredible. Across the table, my dining partner's calamari proved to be a skilfully executed classic. As befits the restaurant's eminent location, the primarily modern European menu incorporates a wealth of global flavours. Tuna steak teriyaki, rabbit biryani and tofu cakes all offer something unique and feature carefully selected ingredients.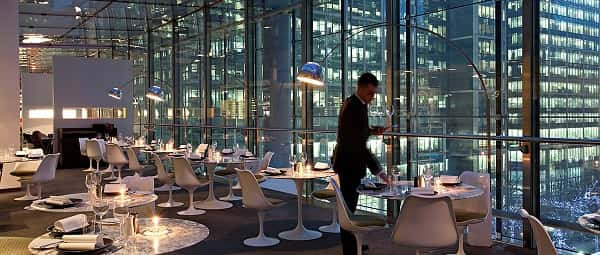 Plateau Bar & Grill
Entering Plateau, it feels more like a greenhouse than a restaurant. But on second glance, the huge glass windows and al fresco dining make it feel refreshing and open. The kitchen divides the bar and grill area from the evening restaurant, and with French delicacies spanning crab, venison and champagne jelly. No French eatery is complete without desserts… the tasty crème brulee is well worth the price.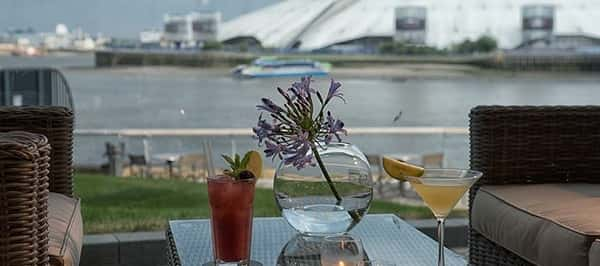 Scoff & Banter - Canary Wharf
Looking for a cool intimate space with floor to ceiling willows where you can admire views of the river Thames? At night, the restaurant and terrace becomes a sophisticated dining and entertainment space with elegant riverside dining, a full sized American pool table, live entertainment, and a drinks list as enviable as our location, the terrace really is a stunning evening destination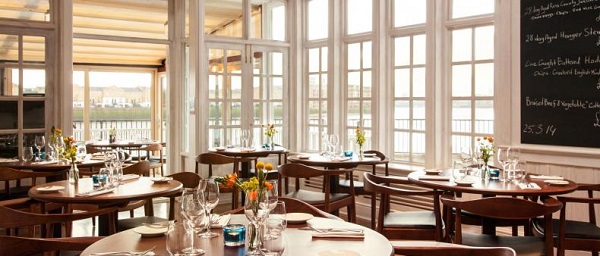 The Narrow
Gordons Ramsey's The Narrow has panoramic views of the river Thames and the bar serves simple but elegant food sourced from the best British and European artisan produce.

From the terrace there are breath-taking waterside views - the perfect location for you to enjoy cocktails, drinks and a fabulous meal. During the summer, a BBQ can be found on the terrace at weekends. The bar offers cosy seating and roaring fires, there's no better place for after work drinks, day long catch-ups with family and friends or a sunset drink on the river. The bar menu is also served all day, every day. Kids eat free all day every day.