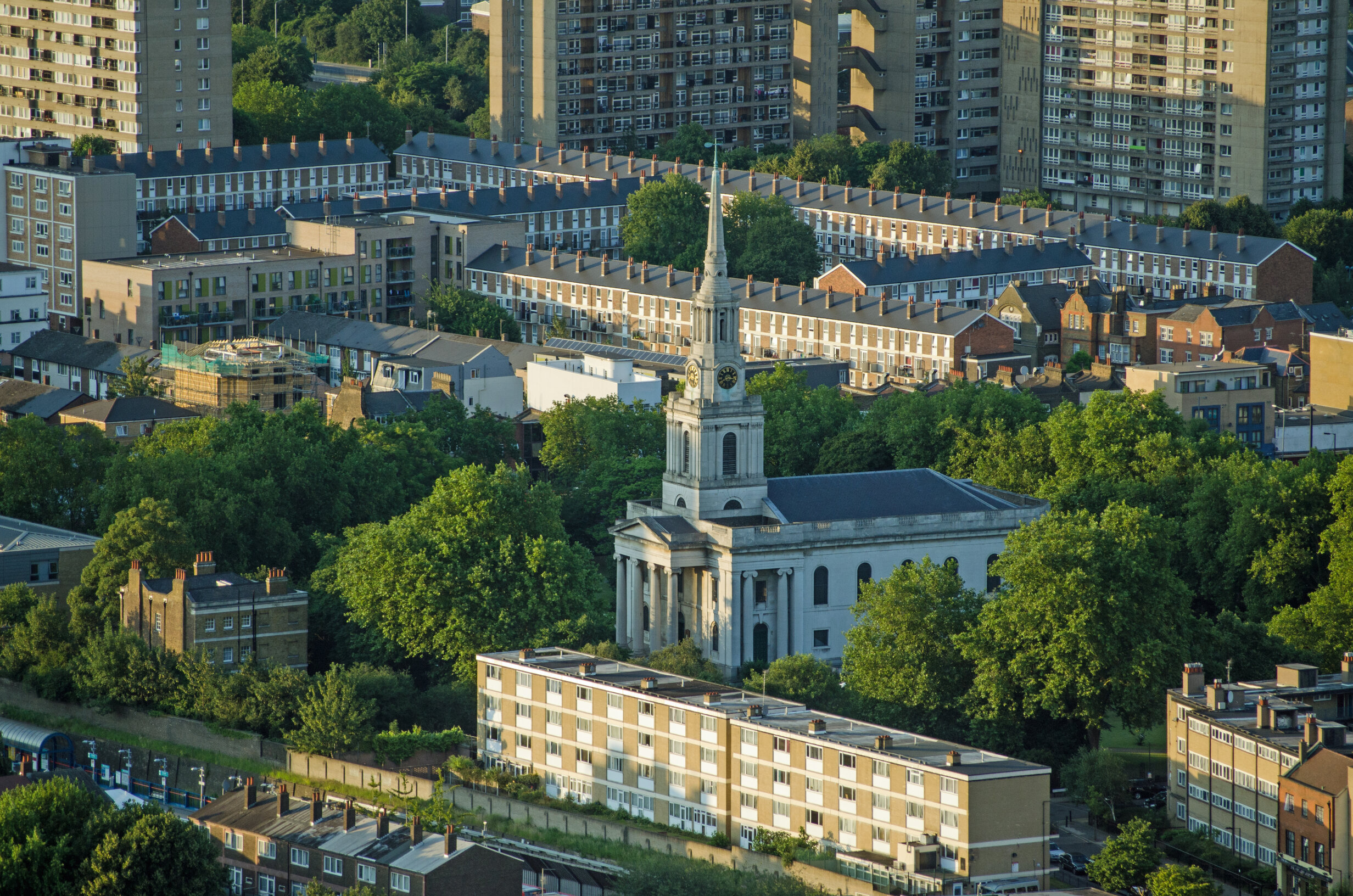 Poplar Property Guide
Poplar is a vibrant Dockland's neighbourhood in London's East End. For anyone wanting to buy or rent a property near Canary Wharf or with fast transport links to central London, Poplar is an excellent place to live. Poplar is characterised by mid-century residential buildings, with a pleasant variety of both low-rise and high-rise structures. This is one of the few Zone 2 areas where you can find houses in good supply, as well as flats and maisonettes.
What is it like to live in Poplar? What types of properties are available in this regenerated area of London? Please read on to find out more about Poplar.
Poplar Properties
Poplar has a range of houses and flats to buy or rent. Some of the historic areas of this neighbourhood have a good mix of Georgian and Victorian terraced houses. Many of these period townhouses have been converted into spacious flats offering a high standard of living. Additionally, many mid-century high-rise blocks built for social housing have undergone tasteful refurbishments to bring them up to a modern standard.
The regeneration of Poplar is due in part to new developments of new-build tall apartment buildings. These stunning buildings beside the docks feature glass-fronted facades and on-site amenities. In addition, many of the new-build apartments in Poplar feature luxurious flats with fantastic views over the Docklands and River Thames. This eclectic mix of housing makes Poplar an exciting yet affordable place to live close to Central London.
Many of the Georgian terraced houses in Poplar are between Poplar High Street and the East India Dock Road. Here, small quiet enclaves of period homes seem miles away from the hustle and bustle of nearby Canary Wharf. To the north of the East India Dock Road are terraced streets of family homes built in the middle of the 20th century.
As with many of the rejuvenated Dockland's areas, tall mid-century apartment blocks dominate the neighbourhood. However, many of these landmark buildings have undergone extensive refurbishments to create modern, contemporary living spaces. For example, Balfron Tower off St. Leonards Road is an example of the bringing '60s and '70s housing into the 21st century. Similarly, in Lansbury Estate, many low-rise apartment buildings dominate the area.
The most desirable areas in Poplar to live are the riverside and dockside developments. These areas have modern apartment buildings with balconies, glass fronts, and even on-site amenities. Some of these multi-storey residential buildings are found beside Poplar Dock Marina, the North Dock, Limehouse Basin and the River Thames.
New-Build Homes in Poplar
Several developments will bring thousands of new homes onto the market in Poplar. For example, Aberfeldy Village is regenerating the East India Dock area, creating a community with public spaces, parks, health centres, and shops.
Additionally, between Poplar and Canary Wharf in Blackwall is the New Providence Wharf development. This area has new apartments and community areas along the banks of the Thames. All these new-build developments in Poplar include improved local amenities such as shops, a cinema, restaurants, and health facilities.
Another exciting new development in the area is Poplar Riverside. This development includes apartments of varying sizes, from studio flats to 3-bedroom luxury apartments with balconies. Residents will enjoy private outdoor spaces in landscaped parks, riverside walks, and new amenities such as shops, cafes, and restaurants.
New developments that have injected life into Poplar include the Manhattan Plaza, off Poplar High Street, and London City Island on the River Lea.
The Best Roads in Poplar
One of the best roads to live in Poplar is Woodstock Terrace because it's one of the few with fine examples of early Victorian architecture. The road is characterised by flat-fronted brick houses that are 3- and 4-storeys tall. Beside the street is the Poplar Recreation Ground, providing some open green space — something that's rare in Poplar.
However, the best places to live in Poplar are not in any particular street but multi-storey, modern apartments with views over the docklands. For example, the new housing developments in New Providence Wharf are close to the Blackwall Tunnel. They have spectacular views over the O2, Thames, and the Canary Wharf skyline. On the west side of Poplar, on the edge of Canary Wharf, is the 58-storey Newfoundland apartment building.
Renting in Poplar
Poplar is an ideal London neighbourhood for anyone who works in Canary Wharf. The financial heart of London is a short bike ride, walk, or journey on the Dockland's Light Railway. Not only does this mean ditching the local commute, but it saves money on transport, making renting a flat in Poplar even more affordable.
Thanks to the wide range of flats and high availability, renting in Poplar is remarkably cheap for Central London, even if you're on a tight budget. The average cost of renting a 1- or 2- bedroom flat in the centre of Poplar is between £300 and £350 per week. At the top end of the scale, renting a flat in one of the new developments may cost between £350 and £450 per week.
Due to the lack of family homes in Poplar, it isn't easy to find a house for rent. So if any come on the market, they are usually rented out very quickly.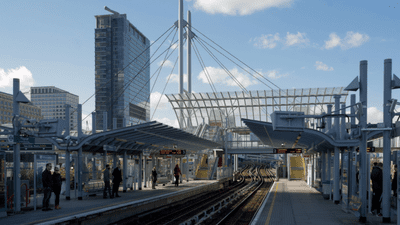 Poplar Transport
Like many E14 neighbourhoods, Poplar is a great area for transport connections. The transport system has also undergone many changes within the last 30 years, making the area a transport hub. The area is a served by the Docklands Light Railway (DLR) - London's only automated metro system. Poplar has its own DLR station, in addition to stations at nearby West India Quay, Westferry and Langdon Park. For tube access, Canary Wharf underground station is just a stone's throw away, providing access to the Jubilee line.
Other public transport options include the Uber boat (which takes you from Canary Wharf Pier to Putney in the West and Woolwich Arsenal in the East) and the bus network, with bus stops serving a multitude of routes. For road access, the A13 skirts by, providing a three-lane highway from Canary Wharf to the M25. With Crossrail and the much-anticipated Elizabeth Line also in the pipe-line, Poplar will become one of the best located neighbourhoods in the city.
Poplar Schools
There are many excellent schools in Poplar providing quality education for primary and secondary school students. Several primary schools such as Bygrove Primary School, Mayflower Primary, Culloden Primar, and Manorfield have "outstanding" ratings by Ofstead. However, all the primary schools in Poplar have at least a good rating.
The "outstanding" secondary school in Poplar is St. Paul's Way Trust school. However, Ofsted rated other secondary schools such as South Quay College, Bow School, Canary Wharf College 3 and Langdon Park Community School as "Good".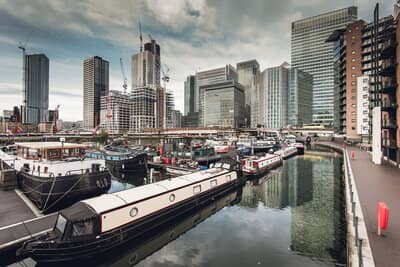 Poplar Employment
Living in Poplar provides you with a great range of employment opportunities. The neighbourhood is just a stone's throw away from Canary Wharf – one of London's most prosperous locations for job opportunities. Numerous large companies are located here and while the area has a reputation for finance, the Canary Wharf and E14 job offerings have expanded in recent years. Barclays PLC, HSBC and JP Morgan are all here, while creative digital and media companies are growing in their numbers.  In addition to Canary Wharf, because of its solid transport links, Poplar provides easy access to other major employment areas in London such as the City, with Liverpool Street reached in just 30 minutes by public transport.
Poplar Leisure
Despite being a largely residential neighbourhood, Poplar manages to hold its own when it comes to attractions and leisure options. The neighbourhood is home to Chrisp Street Market - the UK's oldest purpose-built market. Offering everything from books to beauty products, local tipples and pie and mash shops, the market is a central hub for the local community. Because of its E14 location, Poplar also benefits from easy access to the many attractions of Canary Wharf.
For culture and history, the Museum of London Docklands explores the days of Poplar's yesteryear while Trinity Buoy Wharf is a great spot for street art. Outside, Poplar benefits from a range of green spaces including Bow Creek Ecology Park and East India Dock Basin Nature Reserve. Shops are also not hard to come by with many local retailers and the Canary Wharf shopping centre. For evening entertainment, Canary Wharf is just a stone's throw away, offering many restaurants and bars. The local Everyman cinema is also a popular evening spot with those wanting to catch a film.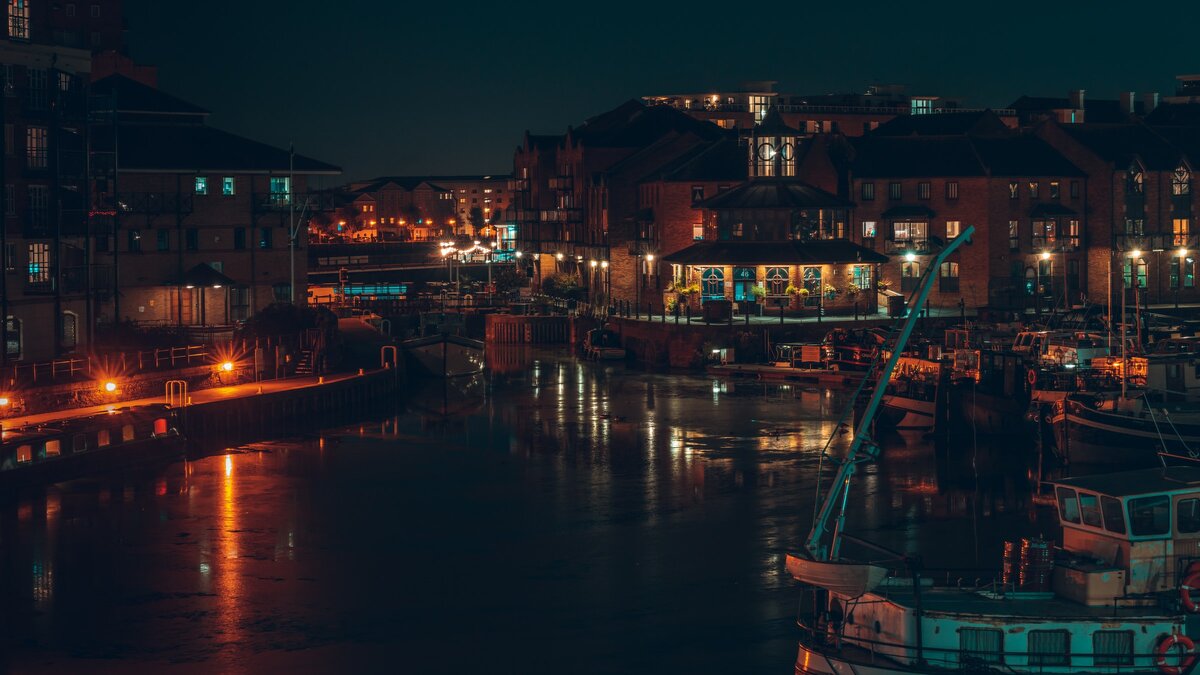 Living in Poplar
So, there you have it. Poplar is a great place to live with affordable properties and numerous transport options, local jobs and leisure facilities. It's no wonder the E14 area was rated one of the best places to live by The Sunday Times in 2019.
Proper Local is a local Poplar estate agent, specialising in properties within E14 – areas like Poplar, Blackwall, Isle of Dogs and Canary Wharf. If you have a property in Poplar you are considering letting out, or you are interested in buying or renting a property here, get in touch with us. We are one of the highest rated letting agents in E14, with a diverse property portfolio for both renters and buyers. Get in touch to have a chat about your requirements, or browse our popular pages below: