Blog
Details

Hits: 544
Quite simply, tenants in Canary Wharf have never had it so good.
Not only has the amount of available rental stock in Canary Wharf increased, the quality has too.
Although not within the Canary Wharf Estate, the following developments have all completed within the last 12 months and are only a short walk into Canary Wharf itself and Canary Wharf station: Charrington Tower (previously known as Providence Tower), Horizons Tower, Talisman Tower and Duckman Tower. In these key Canary Wharf developments swimming pools and gyms are now the norm, and set a new benchmark for upcoming developments over the next few years.
However, don't dismiss the older developments. Pan Peninsula (somewhat the 'daddy' in the area), Discovery Dock East & Discovery Dock West, Ability Place, Baltimore Wharf, Denison House, Trinity Tower, Cobalt Place and Canary Central are all modern developments in the Canary Wharf area with excellent internal specification and facilities.
Rental Prices in Canary Wharf
Unlike the sales market, the rental market doesn't benefit from a centralised pricing database like the Land Registry.
However, we do have experience! So here's some guide prices for property to rent in Canary Wharf.
Studio – from £300 per week
One bedroom – from £350 per week
Two bedrooms – from £450 per week
Three bedrooms - from £550 per week
But, as with anything in life, there's always exceptions!
Details

Hits: 624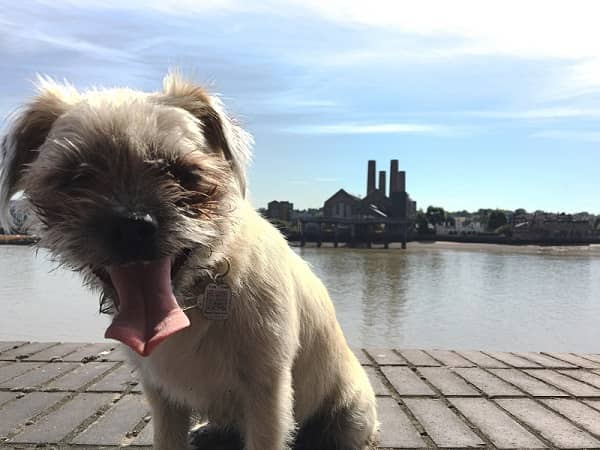 Hi, my name is Frank and I'm a proper local dog.
As a proper local, I'm going to show you around E14.
I'm going to be writing stuff every week. I'm out and about quite a lot.
When people talk about E14 they often think 'Canary Wharf', and they don't think about the Isle of Dogs, or Limehouse or Poplar, or Leamouth or Blackwall.
Today I'm on the Isle of Dogs (of course), on my way down to Island Gardens.
Over my shoulder you can see the Thames, and on the other side is a power station in Greenwich.
I do know that Greenwich is in SE10, not E14, but lots of people wonder if its a working power station. Well it is, sort of.
Greenwich power station is a back up supply for Transport for London. If we have a power cut on the National Grid, the power station will start working so we can still use the tube.
But, the power station might have a different future; you can read about TFL's plan here.
So, nice speaking to you.
Check out my next post next Sunday.

Details

Hits: 1396
Buying property in Canary Wharf is actually a very recent phenomenon because up until summer 2015 there wasn't actually much to buy on the Canary Wharf Estate itself. However, the release of Canary Wharf Group's 10 Park Drive put paid to that and the further development of Wood Wharf will turn the taps on somewhat.
As property here consists mainly of apartments, choice is somewhat restricted to that, but there are a few modern townhouses and a few surviving Victorian properties including warehouses, particularly if you look to the surrounding areas of the Isle of Dogs, Limehouse and Poplar.
In the Blackwall/East India area, to the east of Canary Wharf, key apartment blocks include New Providence Wharf, Ontario Tower, Charrington Tower and Horizons Tower. And if you travel a little further east again you'll find London City Island, Ballymore's recently completed mini Manhattan concept.
Around South Quay, just to the south of Canary Wharf, you'll find a number of residential buildings including the iconic Pan Peninsula (somewhat the 'daddy' in the area), Discovery Dock East & Discovery Dock West, Ability Place, Baltimore Wharf, Denison House, Trinity Tower, Cobalt Place and Canary Central. Galliard's recently completed Lincoln Plaza development, comprising Duckman Tower and Talisman Tower, sits next to Indescon Square from the same developer.
Prices in Canary Wharf
Rightmove (from Land Registry data) suggest the average price in Canary Wharf is £494,065 and was similar in terms of sold prices to nearby Isle Of Dogs (£487,935), Millwall (£478,337) and Cubitt Town (£488,842). And that overall sold prices in Canary Wharf over the last year were 4% up on the previous year and 18% up on the 2013 level of £420,343 (as at 25th July 2016).
Meanwhile Zoopla suggest an average Canary Wharf property price of £568,470 (as at 23rd August 2016).
However, with the sale of many new homes in 2015 for completion in 2019 or later we would expect the average price for Canary Wharf property to move clear of average property prices in neighbouring areas.
What we do know is this. There is far more residential property in the Canary Wharf area than there was at the beginning of 2016 and this leads to more choice for buyers. An easy mistake to make would be to suggest that all apartment blocks are the same. They are absolutely not.
For some location is king, but for others a slightly longer walk to work might be a fair trade off for more space, a river view or indeed a lower service charge.
Details

Hits: 1007
A journey to the Canary Wharf of old used to be best served by car, but its very different now. How else do over 100,000 workers manage to get here every day for work?

Tube: The Jubilee Line serves central Canary Wharf, with passengers disembarking into the magnificent Foster + Partners building.
DLR: However, Canary Wharf and the Isle of Dogs is very well served by the DLR, with stations at Canary Wharf, Heron Quays, South Quay, Crossharbour, Mudchute, Island Gardens, West India Quay and Poplar.
River: The RB1 river bus service links Canary Wharf Pier with Greenwich, Tower Bridge, London Bridge, Blackfriars and Embankment (for Waterloo), to name but a few.
Bus: Coming in from East London, the D3, D7 and D8 will all bring you directly to Canary Wharf, and the 277 heads to Highbury and Islington. There is also a night bus, the N550, from Trafalgar Square.
Airport: Escaping from the city couldn't be easier with London City Airport just a few stops away on the DLR or a few minutes by cab.
Details

Hits: 686
Canary Wharf has already changed beyond all recognition from when One Canada Square was completed in 1991. (Incidentally One Canada Square is what some mistakenly refer to as Canary Wharf, or Canary Wharf Tower.) But what was once a singular (very) tall tower, it is now flanked by many other skyscrapers.
But if you think Canary Wharf looks impressive now, by 2020 its going to look very different, and by 2025 its going to look different again.
The largest single development is that by the Canary Wharf Group itself. The site formerly known as Wood Wharf has been razed to the ground and will provide a new residential-led, mixed use, waterside community.
The masterplan, designed by Allies and Morrison Architects, will provide over 3,200 new homes, nearly 2 million sq ft of high quality commercial office space, and a further 335,000 sq ft of shops, restaurants and community uses. Estimated completion for the entire project is 2023, however the first of the residential towers, 10 Park Drive, will complete in 2019/2020.
However, prior to 2023, and all located to the south of the Canary Wharf Estate, we will witness the completion of Berkeley's South Quay Plaza (2020), Galliard's Maine Tower at Harbour Central (2019/2020), Ballymore's The Wardian (2019) and LBS' The Madison (2019).
But that's not all.
Landmark Pinnacle at 75 floors will become London's tallest residential building (by number of floors, rather than height), and Hertsmere House near West India Quay will ACTUALLY become Europe's tallest residential tower at 240 metres. But by then, the Canary Wharf Group will have also completed its 560 unit Newfoundland scheme, on the far west of the estate just past Heron Quays DLR.
Oh, and did we mention the completion of Mount Anvil's Dollar Bay & Galliard's Baltimore Tower complete in 2017 too…
And lastly, just a few words for Crossrail. Although Crossrail Place was completed in 2015 the station itself will not open until December 2018. Once open the Elizabeth line (as its now to be called, Ma'am) will take you from Canary Wharf to Liverpool Street in 6 minutes, to Paddington in 17 and Heathrow in 39. Incidentally, did you know that the station itself is 18 metres below water level? Crossrail sits beneath North Dock and the dock was drained in order for building of the station to commence.